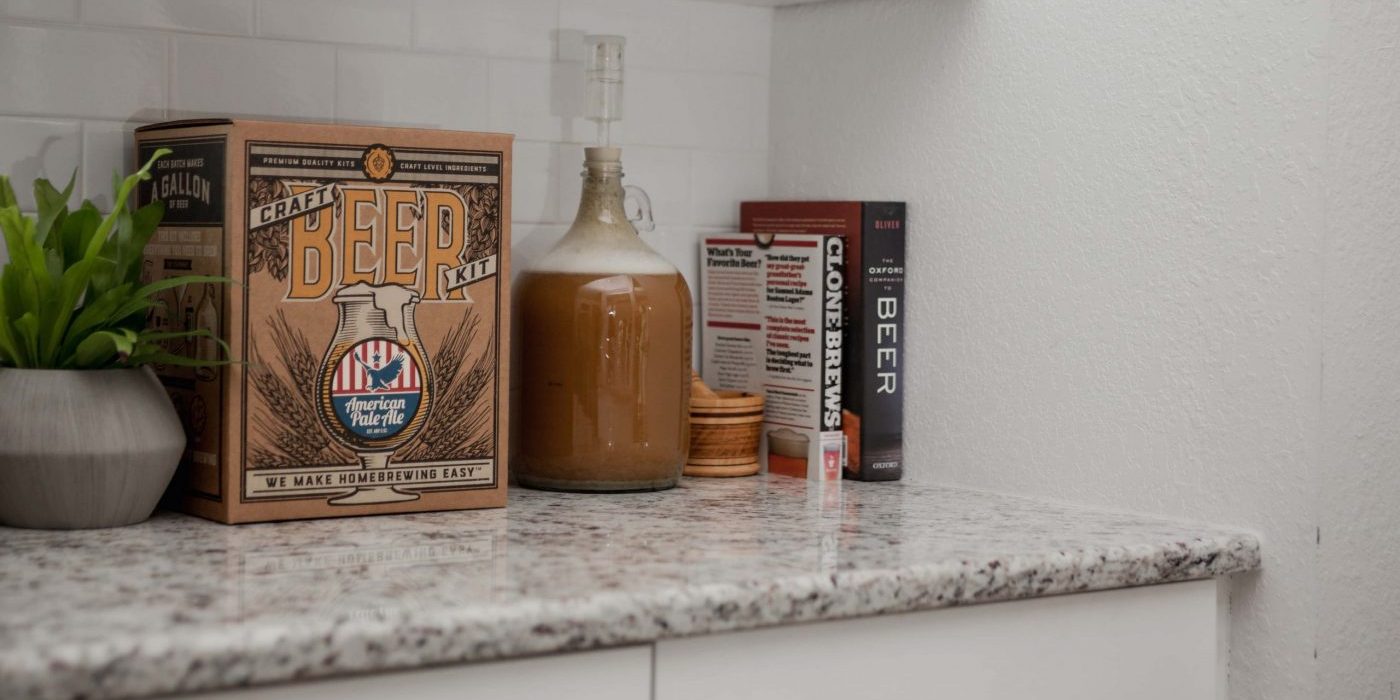 09 Sep

"Are home brew kits any good?" and 11 other questions from new brewers, answered.
Are home brew kits any good?
You're probably wondering – how good will this actually taste? Am I going to even want to drink homemade beer? YES! Beer kits produce delicious craft beer. You'll be surprised just how good homebrewed beer will taste! In fact, we've had a few homebrewers use Craft a Brew kits to enter homebrewing competitions and win awards. Don't be scared off by any questionable homebrews that your neighbor or uncle ever made you taste – not all beer kits are made equal!
Craft a Brew beer kits use only high quality ingredients – the same hops, grains & yeast that your favorite craft breweries use. A beer is only as good as its ingredients, which is why we only use the best from the same brands that commercial breweries trust. Briess Malts, Fermentis yeast and more.
A homebrew kit contains all the equipment you'll need to ferment a batch of beer plus the ingredients needed to brew your first batch. Every beer kit is built to produce a beer style and includes the specialty grains or hops that it calls for. When using a brew kit to brew an IPA, stout or Hefeweizen, you're using the building blocks to create a beer recipe that's been refined, tested and perfected. So you're set up to succeed. Think of it like cooking a meal from a meal kit delivery service – everything you need is in one box, it's all pre-measured for you and all you have to do is follow the instructions. Need more convincing? Here's what real brewers have to say:
This brew kit rocks. The best Hefeweizen I've tasted since I was stationed in Ulm. (33 years ago)
This is absolutely the best beer we've ever brewed! Seriously, as soon as we tasted the first batch, we ordered a second kit so that we never run out of Sixpoint Resin IIPA. It's so good that I was reluctant to leave this review in case CraftaBrew sell out of it 😅!!
I order this American Pale Ale a lot. It's one of my favorite standards, especially in the summer. It's really crisp with good flavor and hoppiness.
There are plenty of simple techniques or accessories you can use to take your homebrewed beer from tasting great to tasing like a professional brew. Check out our post with 10 tips for nailing your first batch of beer. 
What comes in a beer kit? (Do I need to go buy anything else?)
A quality brew kit will include reusable equipment and your first batch of ingredients. From there, you'll likely need a few more items (many of which you'll likely already own).
Craft a Brew's 1 gallon beer kit includes the following:
1 gallon carboy

Funnel

Racking cane & tip

Transfer tubing & clamp

Airlock

Rubber stopper

Beer Recipe Kit

(includes grains, hops, yeast, sanitizer to brew and ferment 1 gallon of beer)
Beyond a beer kit, you'll need a few other items. You likely already have these at home, so they may not pose any cost to you:
Large stock pot with a lid (at least 1 gallon volume)

White table sugar (2 Tablespoons)

A bag of ice

A spoon or brew paddle for brewing

Spring water (if your tap water is not rated for drinking. We don't recommend distilled water because it's stripped of important minerals.)

Ten 12oz beer bottles & caps
Stone fruit, peaches, apricots & raisins work really well in high ABV Belgian beers or strong ales. Belgians have complex, sweet & boozy flavors that could play nicely with currants, plums or dates.  
We recommend:
When it comes to bottling you have options depending on how much you want to spend:
A Deluxe Bottling Kit ($29.99) comes with ten 12oz amber pry-off beer bottles, a bottle capper tool & 30 bottle caps. 
If you want to spend less, you can save pry-off beer bottles from 6 packs you drink at home. A Capping Kit ($25) comes with a bottle capper tool & bottle caps. 
If you don't want to spend money on new caps every time you brew, opt for swing-top bottles. Our favorite way to stock up on swing-top bottles is to buy a few packs of Grolsch beer. Enjoy the beer and use the bottles for your homebrew.
BACK TO MENU
Do I need any experience to do this?
It's perfectly safe to brew beer indoors. Brewing beer is quite similar to making pasta or oatmeal. You're simply boiling ingredients and water in a pot on your stove. 
When using a beer kit you do NOT need to set up a brew station outdoors and you don't need any specialty propane burners. You don't need specialty brew kettles, either, especially when starting out. A boring, large stock pot with a lid is all you'll need. We suggest using one that can hold as close to 1 gallon of water as possible without risk of boiling over.
There aren't any dangerous "fumes" associated with brewing beer – just steam. So you don't need to worry about disturbing your neighbors or upsetting a landlord. Brewing beer actually smells pretty amazing (similar to cooking something delicious in your kitchen). The aromas are bready, malty, sweet at first and then you're hit with floral, herbal and even fruity hop aromas once those are added.
BACK TO MENU
Is homebrewing even legal?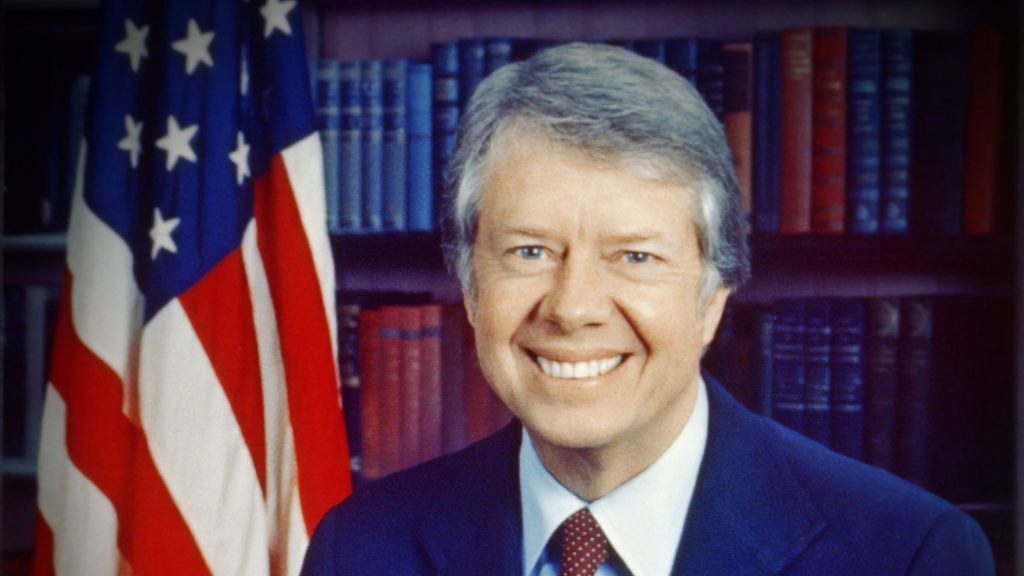 Are home brew kits any good if they're illegal? Well don't worry – brewing your own beer is perfectly legal in all 50 United States, though that wasn't always the case! In fact, some of you reading this now may have been born before homebrewing was legalized.
Who do we have to thank for legalizing this delicious pastime? Jimmy Carter. On October 14, 1978 – also called Legalization Day – President Carter helped federally legalize our favorite hobby. It had been illegal since Prohibition began in 1919. This did leave the regulation of alcohol to the states. Even as recently as 2013, Mississippi and Alabama still had laws against homebrewing. 
So whenever you break into a bottle of homebrewed beer, raise a glass to ole Jimmy!
BACK TO MENU
How long does it take to make your own beer?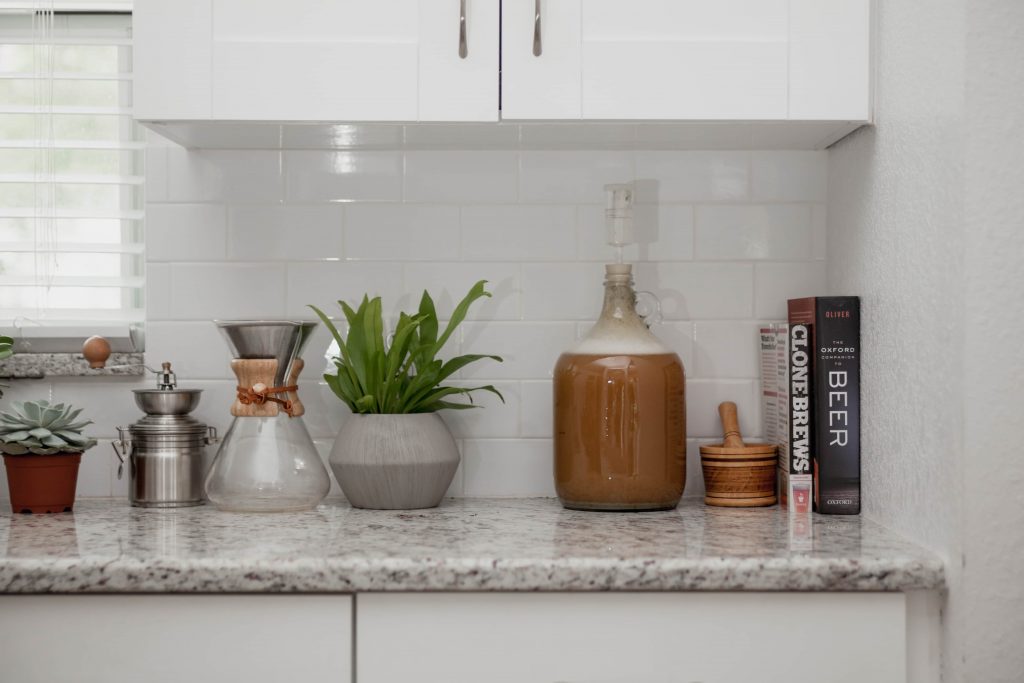 Most beer kits will produce ready-to-drink beer in one month from start to finish (from "grain to glass" as we like to say). Here's an overview of a typical 28 day beer brewing timeline:

DAY 1: Brew Day
Brew day takes about ~2 hours, this includes sanitation, brewing & clean up. The bulk of brew day consists of the 60 minute boil, most of which is relatively 'hands off' so feel free to invite a friend over or open a few beers. 
The next 2 weeks: Fermentation
Your beer will sit at room temperature undisturbed for this phase. Some beers may feature a mid-fermentation step such as dry-hopping, adding coffee beans, etc. Be sure to mark your calendar for such steps!  
DAY 14: Bottling Day
Bottling day only takes about 45 minutes, this includes sanitation, bottling & clean up. Bottling day is easier with an extra set of hands, so you might want to plan ahead to have a friend join you. 
The next 2 weeks: Carbonation
Bottles will sit at room temperature undisturbed while they develop CO2 inside. Be sure to store out of direct sunlight to avoid "light strike" (aka skunked beer).
DAY 28: Chill & drink!
After your beer is done carbonating, the bottles should be placed in the fridge to chill & lock in the CO2. As soon as they're cold you can crack into your first homebrew!  
Some beer styles may require additional aging time, such as high alcohol content beers or sour beers. If your kit includes a special ingredient, the beer may need extra time to age on the ingredient to maximize the flavors. If a beer kit strays from the general timeline outlined above, it will be noted on a special brewing note included inside the kit.
For example:
Our

Oak Aged IPA

can benefit from an extra week of fermentation (3 weeks total) to allow the beer ample time to absorb the oaky character. This beer can also benefit from an extra week carbonating in bottles (3 weeks total) to allow the flavors to mature.
Our

Belgian Abbey Dubbel

(7.5% ABV) contains much more fermentable sugar than our Hefeweizen (4.5% ABV). This Belgian will ferment for 4 weeks, instead of 2, to allow the yeast ample time to work through those sugars.
BACK TO MENU
What if I want to use my own ingredients, like fruit?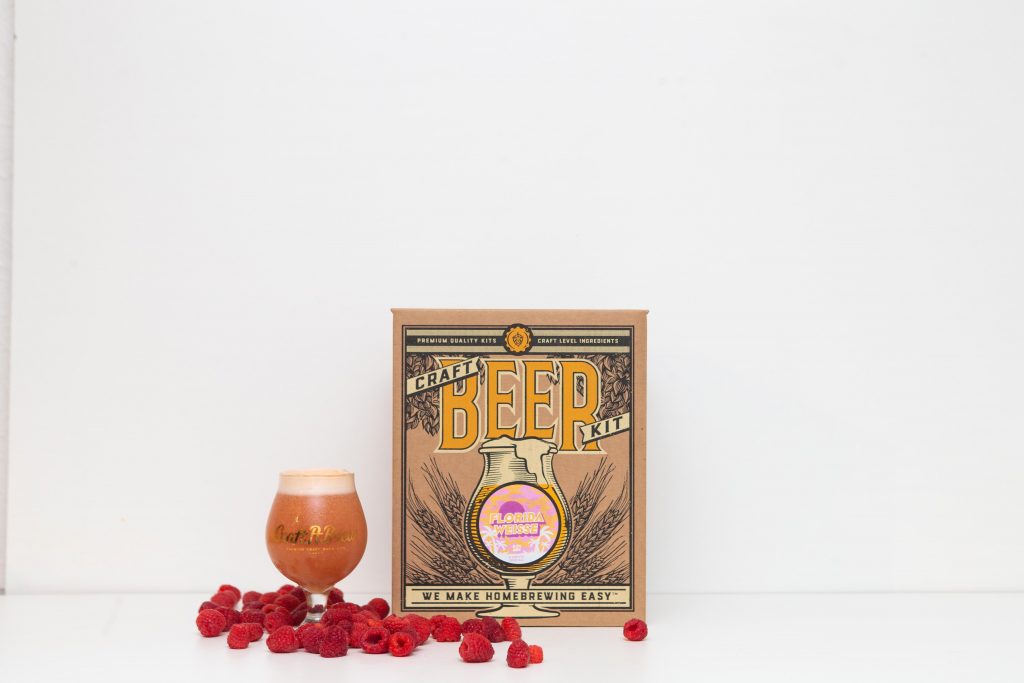 Just because a beer kit comes with pre-measured ingredients doesn't mean you can't put your own spin on your creation! Let's face it – are beer kits any good to you if you can't create personalized brews?
If you're interested in using special ingredients in your homebrews we'd recommend trying one of Craft a Brew's several beer making kits that include specialty ingredients. For example: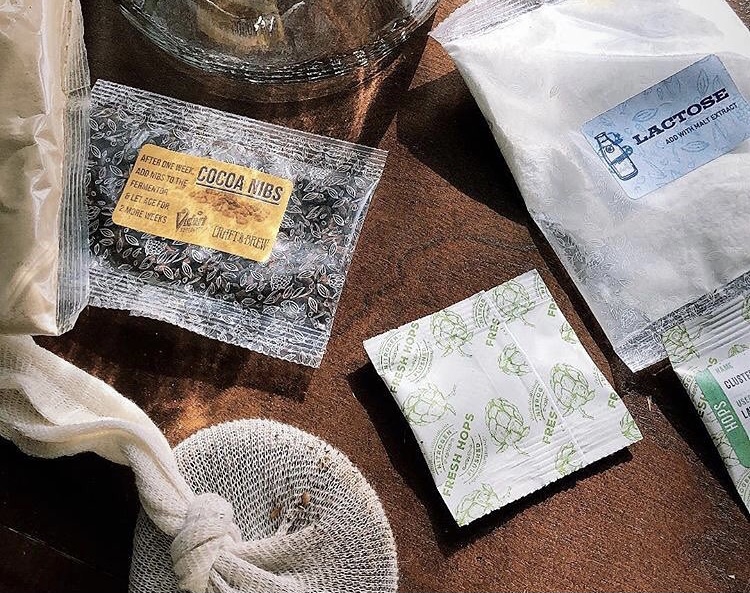 But if you don't want to be limited to our recipe selection, you absolutely can add your own special ingredients and flavors to spice up any basic beer kit. That's one of the best things about using a brew kit – you can be confident in your base beer and have the freedom to experiment with other variables.
Recreate one of your favorite craft beers OR make something entirely unique and never-before-seen. You can brew with fruit, spices, oats, honey, flowers, coffee, herbs, alternative sugars, the possibilities are endless! 
Check out our post on how to brew with fruit for specific recommendations and recipe ideas.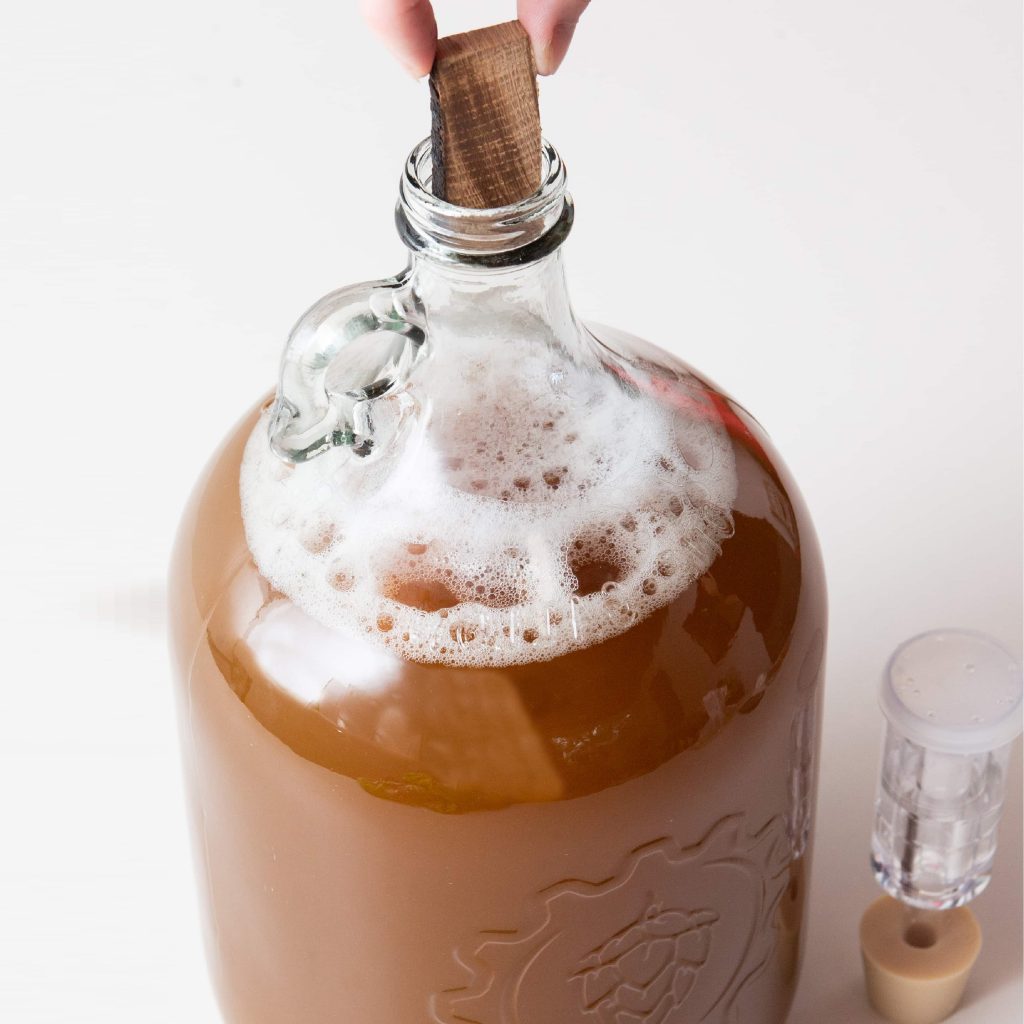 BACK TO MENU
How quickly do I have to drink my homebrewed beer? Will it go bad
We recommend enjoying your liquid gold within 6 months for the best flavors in your glass. Your beer won't go bad or 'expire' in bottles beyond that point, but the flavors, freshness and potency will be shortly after the beer's ready. Unlike some wines, which are best enjoyed when aged, homebrews are best enjoyed relatively fresh and 'young.'
NOTE: some beers may have an even shorter life span in bottles. Specifically, any heavily hopped beer. Especially any beer that uses dry hop additions or 'late' addition hops on brew day – like our New England IPA beer kit.
A lot of hazy beers or New England style IPAs lean heavily on dry hopping techniques to achieve their juicy flavor. The aromatic compounds in hops are quite volatile and they can fade & dissipate very quickly. So the beer can have an incredible aroma and bright flavor right after it's carbonated, but if you wait a few months to enjoy another bottle it may not taste like the last one. This rule of thumb is true for homebrewed beer AND store bought beer.
BACK TO MENU
What beer kit do you recommend (based on my tastes)
If you're going to spend the time brewing your own beer, you want to make sure you're going to like what you made! We've got brew kit recommendations based on your favorite beers:
Craft a Brew has 20+ beer styles to choose from, so you're bound to find one you love. Need recommendations? Have more questions about homebrewing? Email us at support@craftabrew.com – we love talking about craft beer and turing beer drinkers into beer brewers!
BACK TO MENU
How much space do I need to do this?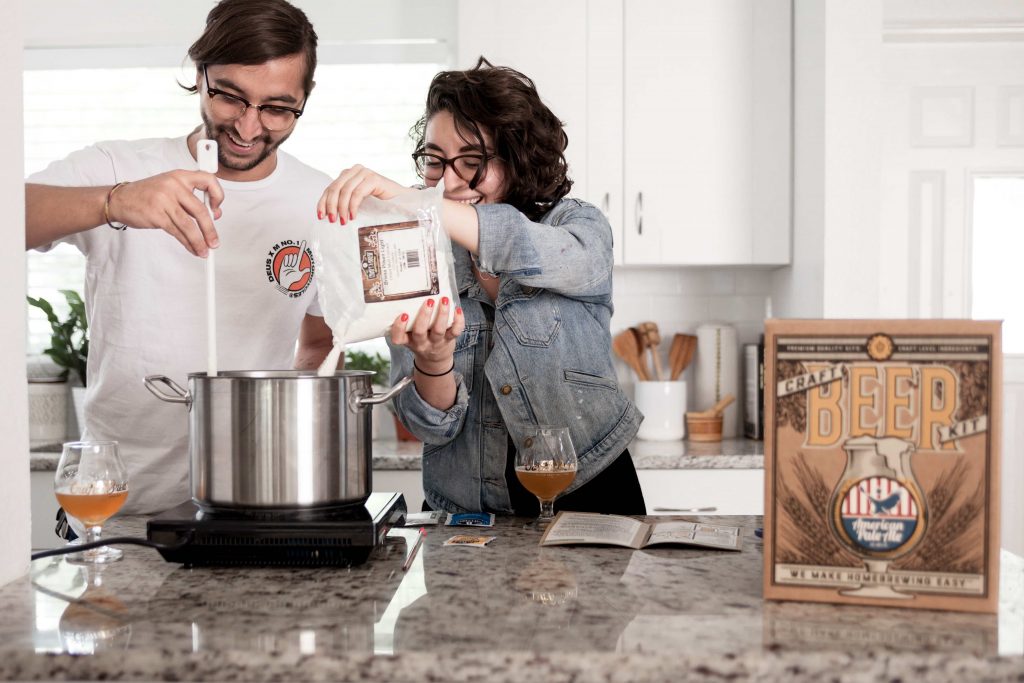 You really don't need much space to start brewing beer at home. You don't need a brew shed or a crafting closet – most of the brewing process happens in a pot on the stove. All you need is a stovetop burner and a few inches of dedicated counter space to let your fermenter sit for 2 weeks.
Any vessel containing homebrew should be kept out of direct sunlight. So you'll need to find a dedicated safe spot at home for your fermenter and bottles. A closet or a kitchen counter will work just fine!
NOTE: before you store your fermenter in a garage, basement or back porch – keep in mind that fermentation temperature is crucial for great tasting beer. If your basement is cold or your garage is hot, they won't be ideal spaces for fermenting beer. Make sure the environment is between 60 – 75 *F for best results.
BACK TO MENU